TANKS
With 60 years experience in the application of internal and external tank coatings, and having successfully completed a single tank coating project in excess of $24 million, we have earned the reputation of Alberta's largest tank coating contractor. Our large industrial heaters and dehumidification equipment allow us to apply coatings year round. Equipment, along with our ability to provide experienced, well trained trades-people gives us the unique distinction of being the most capable winter works coatings contractor in North America.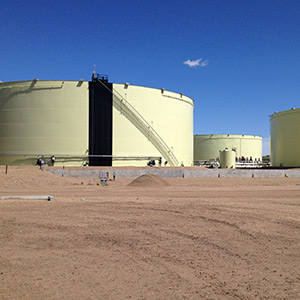 BRIDGES
We specialize in the removal and containment of existing lead-based paint and the subsequent application of modern, high-performance coating systems. This often involves working with the operating public parks and waterways under and around the structure as well as the facilitation of a safe traffic control system. In addition, we offer complete scaffolding and hoarding services for projects of any size or shape.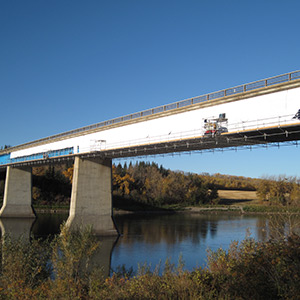 METALIZING
An enhanced alternative protective coating for structural steel on bridges, piping or vessels in environments of Corrosion Under Insulation (CUI), or vessels in aggressive service conditions that protects for decades longer than paint alone. The metalizing process always begins with proper surface preparation. Next, wire such as aluminum, zinc, or other allows are melted using an electric arc or gas flame spray gun. Clean, compressed air strips droplets of molten metal from the wire – depositing these particles onto the steel and forming the protective coating. A single metalized coating can protect steel for up to 40 years or longer depending upon the application, coating thickness and sealing.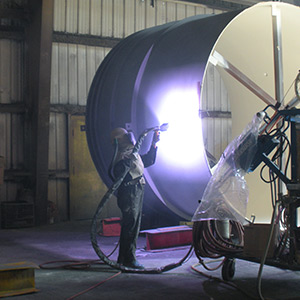 LEAD ABATEMENT
Park Derochie has the ability to maintain proper containment, handle, and dispose of waste, while protecting our employees. Our team (0ffice & field) are trained and  are well equipped and have proper knowledge in documentation, handling, removal methods (Abrasive blasting, high-pressure wash, vacuum blasting, chemical strip shrouded power too, and transportation of hazardous waste.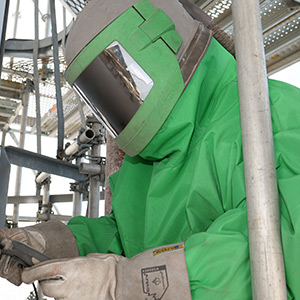 SECONDARY CONTAINMENT
Secondary containment helps prevent serious environmental problems from occurring because of tank releases. While the tank coating itself is vital to minimize the potential for leaks, secondary containment is an important safeguard.
With company environmental awareness, we are proud to offer secondary containment installation services. Our focus is to provide adaptability to various applications, shorten construction time, and cost effectiveness.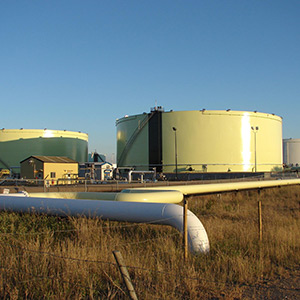 INTERNAL TUBE CLEANING
Park Derochie has developed a Push/Pull method to abrasively blast clean the inside of various sizes of tubes. This method employs the use of a conventional abrasive blasting unit installed on one end of the exchanger and a VecLoader vacuum installed at the other to achieve the push / pull. This allows Park Derochie to abrasively clean an exchanger while other contractors are in the immediate area without causing any health or safety concerns.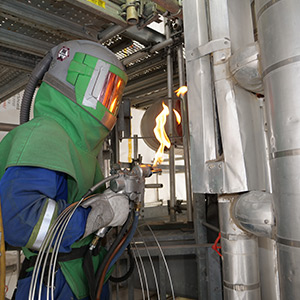 CORROSION UNDER INSULATION
At Park Derochie we offer a complete package to successfully manage your "Corrosion Under Insulation (CUI)" issues. We have the capability, infrastructure, technology, experience and expertise to safely handle all client requirements. Through client partnerships, advance planning and engineered coating systems, we strive to fulfill your needs safer, faster, nd less costly than any other coating contractor.

– Thermal Spray Application/ Metalizing
– Liquid Coatings
– Abrasive Media Blasting
– Scaffolding
– Hoarding
– Insulation
– Tape Wrap
– Lead Abatement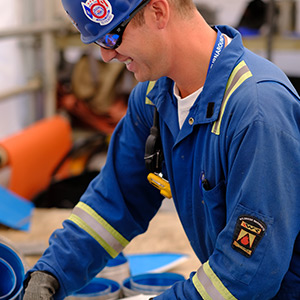 Please fill out the form and one of our sales representatives will promptly get in touch with you.